R & D
¡¡¡¡
Our group have ¡°The National Certification OF Enterprise Technology Center¡±¡¢¡°National Certified Enterprise's Technical Center¡±¡¢ ¡°Textile Dyeing&Finishing Equipment Engineering Technology Research Center¡± three research center and one Academician Workstation,have international research and development test equipment,research specialist staff and RD muscle reach front rank in wool industry.is the national 863 project industrialization base cognizance by Ministry Of Science And Technology¡¢national Torch Plan emphases High-Tech enterprise,successively undertake two national 863 projects¡¢one science and technology supporting plans¡¢four national Torch Plan projects¡¢three national emphases new products projects,twenty provincial science and technology development plans,have independence intellectual property more than 30 projects,we participate in develop two national standard,obtain eight provincial and municipal science and technology progress award,successively undertake and complete more than forty national and provincial research projects moreover bear the palm many times.
For a long time,our company rely on advanced research and develop test condition,expedite achievement transformation,successively detrusion twelve series more than one thousand new high grade wool textile products and modern textile dyeing and finishing equipment which have filled up domestic blank.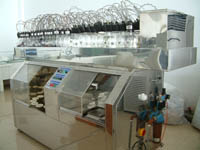 the ¡°COMPANION¡± brand high grade woolen fabric have been choosen ¡°national woolen fabric choice product¡± by China Wool Textile Industry association.we develop Intelligentize microwave dryer¡¢Multifunctional milling&soft finishing machine¡¢Double-face wet brushing&monlding machine,all have passed provincial science and technology achievement appraise,all filled up domestic blank,among them Intelligentize microwave dryer is the first time apply microwave drying technology to textile dying and finishing field,energy saving and environment friendly,saving 40% energy than the traditional hot-wind drying machine,saving 20% energy than the international advanced RF dryer,reach the international leading level; Multifunctional milling&soft finishing machine¡¢Double-face wet brushing&monlding machine are all reached international advanced level.we designed and produced Auto-Cone Dyeing Production Line have been in normal running,and passed national supporting plan expert group test in Nov 2010,this equipment have well informatization and automatization,have the function of monitoring on line¡¢self-control on technics¡¢auto-running by using mechanical arm and remote diagnose ect,at the same time have the water cooling recycle use system,heat energy recycle use system when waist water expel,water saving and energy saving,energy saving 30-40% than the domestic most advanced technics,labor saving 80%,fill up domestic blank,reach international advanced level of the same kind equipments,can be integration rebuild base on different enterprise requirement,real achieve high-tech rebuild and upgrade,is the future competitive products in national dyeing and finishing equipment industry.